In a few simple steps, you can list your instrument, uniform or gear for free and gain access to buyers from all around the world.
Bagpipe Central is a tool designed and dedicated to the piping, drumming and dance community by members of the community. Our mission is to offer a safe place for anyone to post their item and sell it no matter where in the world they live.
Bagpipe Central offers an opportunity for all of us to connect in one place.
Post for free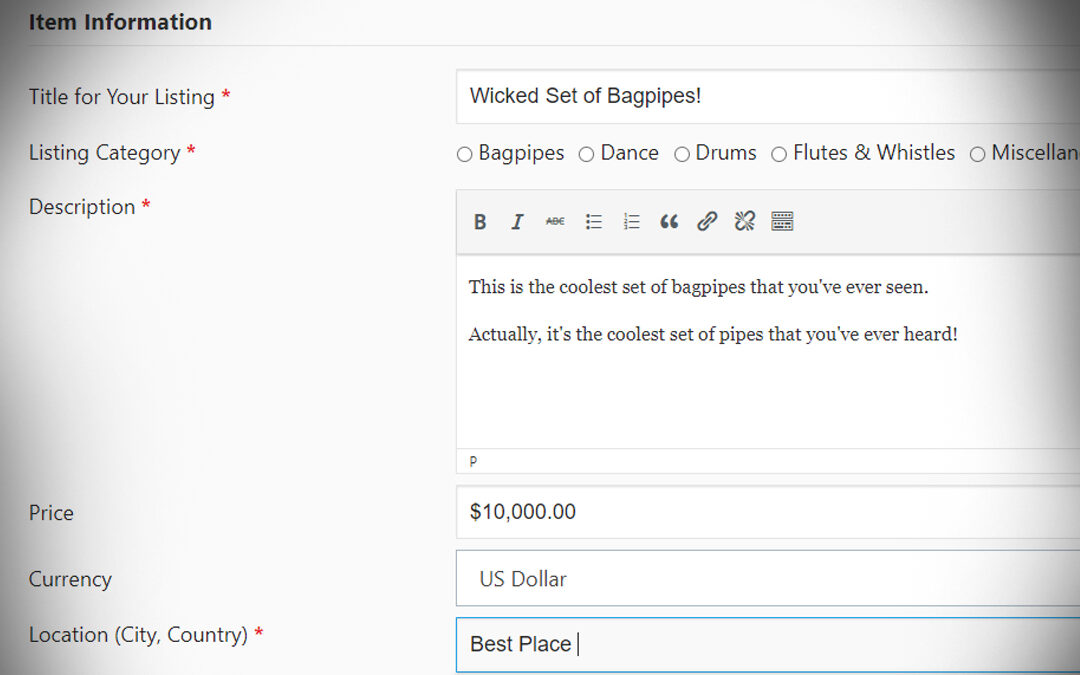 It's very simple to post your item for sale. Fill out the form and add pictures plus a detailed description of the item that you would like to sell. Keep in mind that you will need to login to be able to post pictures on your listing. Then you can sit back and let the piping, drumming and dance world view your items for sale.
Note: For security reasons, you can only upload images if you are logged in. You can Login or Register for free or you can continue below. Completing the form below will automatically create an account for you. After filling out this form, you can Login and update your listing with photos if you wish.
Looking for a very specific item?
You can post an item in the "Wanted" section of our listings by simply clicking the "Wanted" button instead of the "For Sale" button as you are listing your item. This will give people all around the world a chance to respond to your request.
Don't know what your pipes are worth?
If you are uncertain how to value your item, we can appraise it for you. Simply fill in our Appraisal Form, include good quality pictures and we'll do the necessary research to provide you with a professional appraisal.
Need help?
If you have any questions about the site, or would like help listing an item or submitting an appraisal request please send us an email
Good luck with your sale!